From early 1992 for a little over a year, Les Nemethy headed the transaction unit at Hungary's State Privatization Agency (SPA) , engineering key deals that helped set the country on the road to a market economy. Hungary, then the poster-boy of the former communist bloc, was attracting would-be investors from far and wide. Today, despite continuing economic growth, the Hungarian-Canadian financial adviser warns that the country risks falling into the "middle-income trap" – relative economic stagnation – unless it tackles some knotty structural issues like transparency, rule of law and education.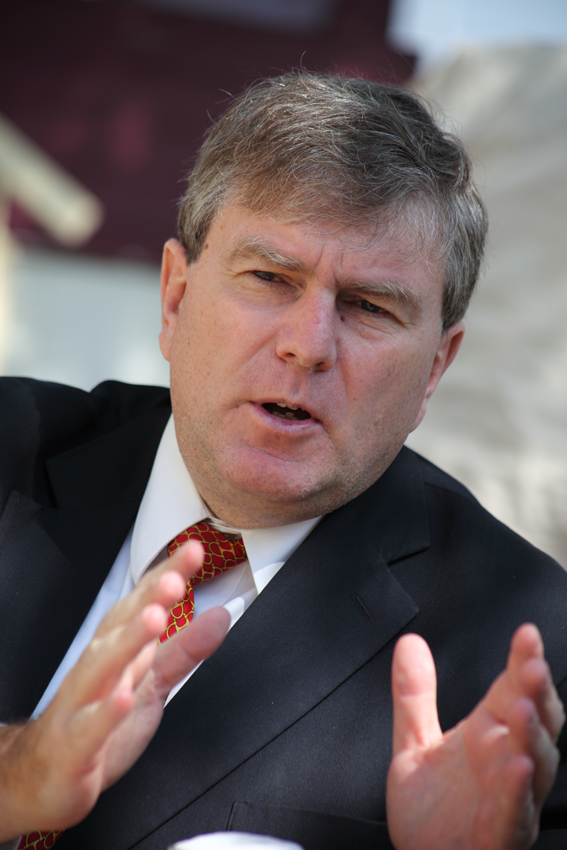 BBJ: Did you know what you were getting into when you joined the SPA?
Les Nemethy: Yeah. It was like sitting on top of a volcano for a year! I was involved in a lot that did good things for this country. The Danubius [hotel group] public offering, I helped bring in Alcoa to Székesfehérvár, Pepsi, Heinz. There were lots of high-profile transactions.
BBJ: Do you have a gross figure for what you privatized?
LN: Privatization numbers went up from about USD 200 million in 1991 to about USD 1 billion in '92. We had a team of 150, so it wasn't about me, it was about the whole team. [There was] one policy change that I drove through: I had a weekly meeting with the six people that reported directly to me, and it became apparent they were a bottleneck. They were doing just about everything, doing, not delegating. So, I said: we're having a change here. Thou shalt delegate and supervise – I think that probably had as much to do with the increase in throughput as anything.
BBJ: Did they understand the word 'delegate'?
LN: Well, we had long discussions about what was involved. All six of them took it on. I know that in hindsight there are quite a few people today who look at privatization as some kind of less-than-patriotic activity, but at the time, speed was the main objective, as opposed to maximizing revenues.
BBJ: Because the assets were losing value with time?
LN: Exactly. The total patrimony was valued in the range of USD 20 bln-30 bln back then and estimates as to how much was being lost due to anything from deteriorating market positions to downright corruption was in the range of USD 2 bln-3 bln per year. Time was not in the government's favor. (See separate box.)
BBJ: And the state had debt to pay off.
LN: Correct. Plus, I spent more than half my time preparing the ground work for the subsequent infrastructure privatizations, like Magyar Telekom. Remember, in '92, there was a 12-13 year waiting list for a telephone! The country desperately, urgently needed investment into the telecom sector. That was by far my highest priority of that year, although the transaction was completed considerably later, after I'd left.
BBJ: You now run financial advisory Euro-Phoenix. How do business conditions today compare to the '90s?
LN: In most developed Western countries, right-wing is typically associated with small government. Here, it's associated with large government. It's interesting how in everything from publishing school books to banks, the role of government is expanding again, quite substantially. I think… we've lost the compass as to what left or right mean any more. Having said that, I think there are a lot of positive things happening. Economic growth has been reasonably robust in recent years. GDP per capita in Budapest has surpassed the EU average, the national debt is being paid down. But I think that the role of government, particularly in the banking sector, brings back worrying memories of Postabank [which failed in 1997, requiring a state bail-out]. The increasing scope of government, along with transparency issues, means that it's harder for the private sector to avoid issues of government and transparency.
BBJ: What about investor interest in Hungary today?
LN: Hungary is a market of ten million, it doesn't have particular geo-strategic significance, certainly nothing like back in '92-'93. There has definitely been a tapering of interest.
BBJ: It's inevitable that others have caught up. It's also not a cheap country, in terms of total wage costs.
LN: Yeah, that's true. Hungary has to be concerned about the "middle-income trap". You need higher value-added skills in the country. We now have very few universities that are in the Top 500 globally, and even they risk falling out of the Top 500. These are areas where Hungary could do a lot better.